About the ILAE Academy
The ILAE Academy provides a virtual campus where healthcare professionals obtain and increase essential and clinically relevant knowledge, skills, and competencies in the field of epilepsy.

Registered users can work on competencies in epilepsy from a varied course portfolio according to different levels of proficiency, track progress, earn certificates and CME credits …. all in one place!

The ILAE Curriculum for Epileptology
Target Audience
The ILAE Academy is intended for health care professionals who see patients with epilepsy. These include neurologists, psychiatrists, family medicine physicians, internists and pediatricians, as well as trainees, residents and fellows.
The self-directed and blended e-learning portfolio
Course offerings vary according to the different levels of proficiency in epileptology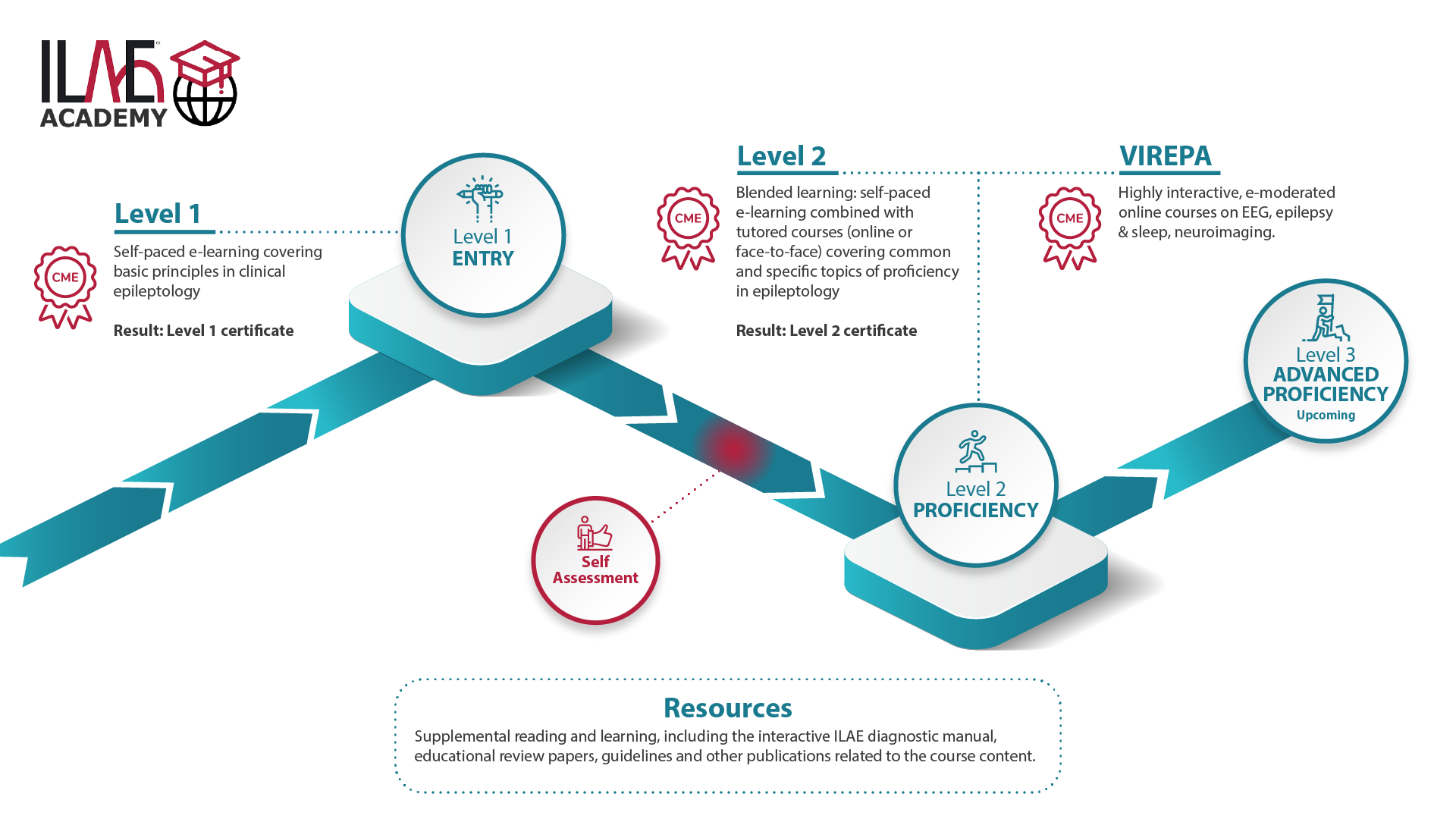 ILAE Academy Course and Package Fees (valid from January 2022)

Level 1
Addressing all healthcare professionals at the Entry Level for epileptology (Level 1 of the ILAE Curriculum)

To receive the Level 1 Certificate, the following must be achieved:

Completion of all 15 patient cases from the 'Learn from Cases'
Completion of 26 pre-determined ebrain sessions
Completion of the course 'Histopathology in a nutshell' (L1)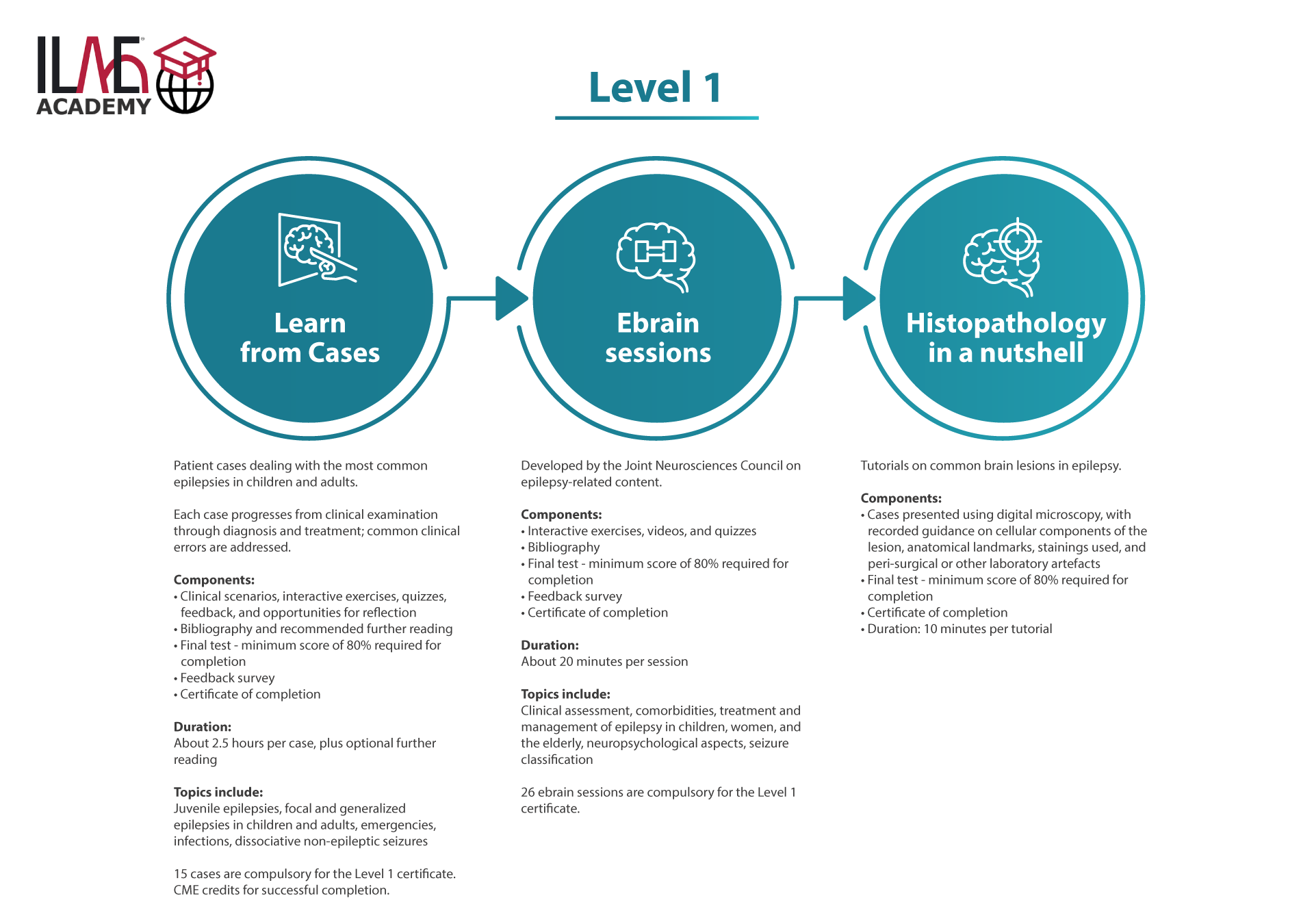 ILAE Academy_Course Portfolio Level 1

Level 1 Full Package

Fee

Subscription period: 1 year

Package includes:

Learn from Cases (15 patient cases)*

- earn 37.5 CME points (AMA PRA Category 1 Credits

TM

ebrain (26 sessions)*

Histopathology Level

1*

Self-Assessment Level 1

* mandatory for Level 1 certificate

High Income

Countries2

Upper-Middle Income2 /
Low & Lower-Middle Income Countries2

Bursary3

Fee for qualified applicants.
See conditions below.

US$ 200

US$ 100/ US$ 50

US$ 25
2Source: World Bank and Hinari (WHO)
3Bursary application requirements and bursary conditions:
Partial bursaries will only be available for participants living in countries with low and lower middle income. Submission of a letter of recommendation from the bursary applicant's current workplace or from the leadership of the local ILAE Chapter or Regional Commission stating the expected benefit to the epilepsy care and development in the bursary applicant's community is required. In case such evidence cannot be submitted, a personal letter of motivation is required outlining the benefit the bursary candidate expects for his/her daily practice and professional career specific to epileptology. This requirement (letter of recommendation OR personal letter of motivation) is mandatory and is an important part of the decision-making process for the granting of any bursary. It is also important to note that no progress and completion of the compulsory courses within 1 year impacts future decisions about bursary eligibility. Bursaries will be partial bursaries involving partial payment. There are no further discounts available if a bursary is awarded.
Level 2

Addressing all healthcare professionals at the Proficiency Level for epileptology (Level 2 of the ILAE Curriculum)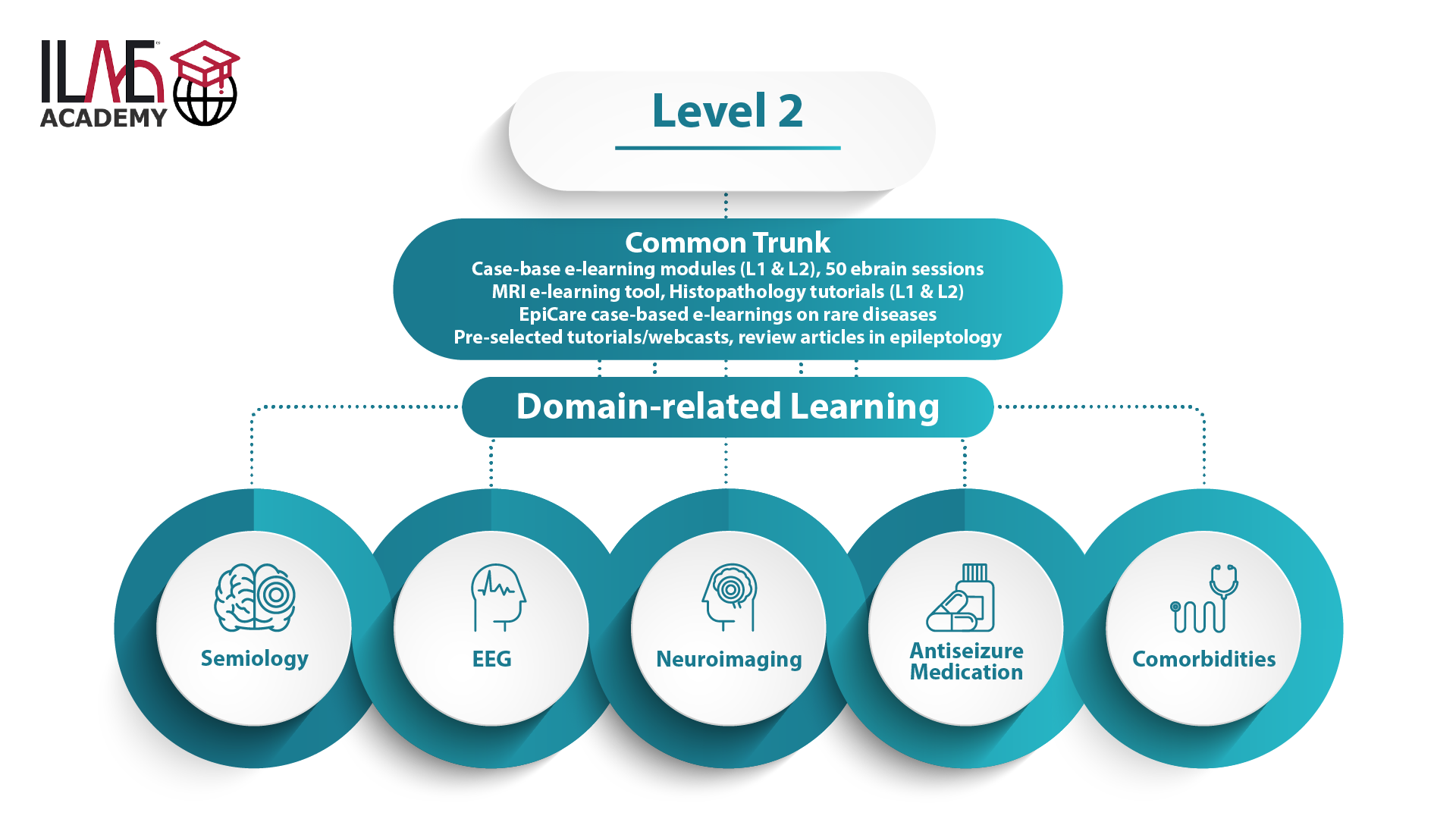 Participants must have successfully accomplished Level 1 or must show evidence for equivalent knowledge (i.e. passed a corresponding online exam). The common body of knowledge in general epileptology will be taught through a comprehensive portfolio of case-oriented e-learning modules covering major epileptic conditions, syndromes, but also rare disorders. The e-learning program will be blended with tutor-guided, web-based teaching courses, advanced face-to-face workshops (see below), or special teaching courses offered at international congresses.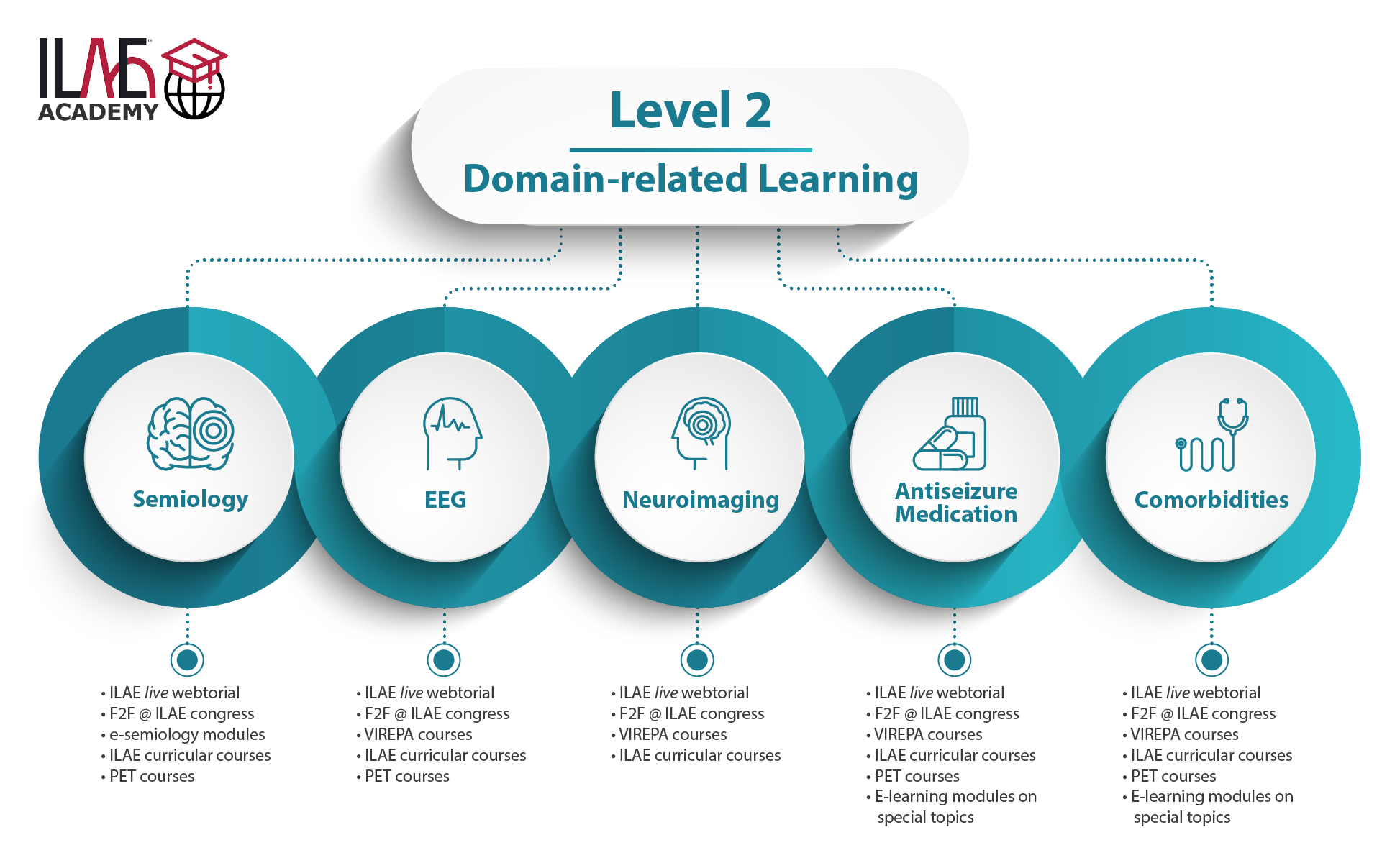 Virtual Epilepsy Academy (VIREPA)
Highly interactive, e-moderated online courses on EEG and epilepsy and sleep
Experts in their field provide guidance, practical experience and expertise
Theoretical knowledge gained transfers to clinical practice
Active collaboration, group work and discussion among all participants is guided by the experts
Valuable downloadable educational material will be provided
Duration: Six months
Entry criteria for courses:
3 years of training in neurology, neuropediatrics, clinical neurophysiology, psychiatry or neurosurgery, or combinations of these
Specific entry criteria may apply for some courses
Bursaries are available for participants living in low and lower middle income countries as categorized by the World Bank.
For details about the courses offered below, and how to apply, visit VIREPA.
EEG in the diagnosis & management of epilepsy – Basic
EEG in the diagnosis & management of epilepsy –Advanced
EEG in the diagnosis & management of epilepsy – Pediatric
Epilepsy & Sleep – Advanced
For questions about VIREPA courses, contact courses@ilae.org.
Instructions: Registration, Course information and purchase
Cooperating partners
The ILAE is cooperating with other educational partners to share epilepsy-related content.
ebrain
Ebrain is the world's largest, most comprehensive web-based training resource for continuous professional development in clinical neuroscience. ebrain is owned by the Joint Neurosciences Council (JNC), a registered charity. More than 500 clinicians form part of a multi-disciplinary team of expert authors and reviewers drawn from all areas of the neurosciences - from across the UK and Europe - contribute to the content.
In cooperation with the JNC, 50 ebrain sessions will be available on the ILAE Academy, covering all aspects of epileptology in diagnosis and treatment. Sessions use the recognized interactive ebrain format. They have been reviewed by ILAE experts and were adapted by the JNC.


EpiCARE
In cooperation with
EpiCARE
(European Reference Network for Rare and Complex Epilepsies)
the ILAE is developing self-paced case-based e-learning courses. These modules focus on diagnosis and management of
some rare and complex epilepsies
and will integrate with the ILAE learning program, corresponding to different levels of professional expertise in epileptology and to Level 2 competencies of the ILAE
Curriculum
. These modules probe the knowledge of healthcare professionals in this field to further expand and deepen their competency. Each e-leaming module presents a patient cases in a highly interactive and self-paced manner, including exercises and quizzes with feedback. Visit
EpiCARE's website and discover the first e-learning modules
.
Please note also the monthly
live webinars
(attendance free, previous registration required).
Last modified: Thursday, April 7, 2022, 7:35 PM